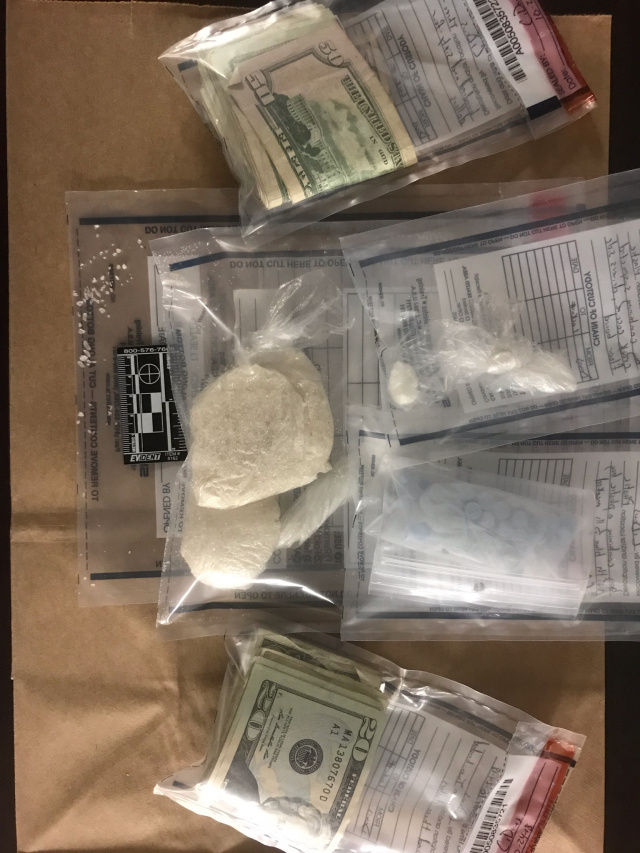 ROSS COUNTY – Sheriff Lavender reports that his patrol division initiated a traffic stop yesterday in the 14000 block of Pleasant Valley Road at approximately 4:00 p.m. The vehicle was occupied by 2 males and I female.
The driver of the vehicle 33-year-old Joshua Rinehart initially stopped and the placed the vehicle in reverse and rammed into the front of the patrol vehicle causing extensive damage to the patrol vehicle. All 3 occupants were ordered out of the vehicle at gunpoint. The 1st passenger was a 41-year-old female, the 2nd passenger was identified as 35-year-old Malcolm Cornell.
A search of the vehicle was conducted and a large amount of suspected Methamphetamine was located along with Crack Cocaine, Prescription Drugs, and Stolen Property was seized.
The female was released from the scene. Mr. Rinehart was arrested and charged with Assault on a Peace Officer and Vandalism, along with traffic violations. Mr. Cornell was arrested and charged with Tampering with Evidence and Felony 2 Drug Possession. The female was released from the scene.
This investigation lead to a search warrant being conducted at 14996 Pleasant Valley Road lot 77 by the U.S. 23 Major Crimes Task Force, Ross County Sheriff's Office, and the Chillicothe Police Department. Evidence of Drug Trafficking and more Stolen Property was discovered at the search warrant.
The investigation is ongoing and further charges are pending.