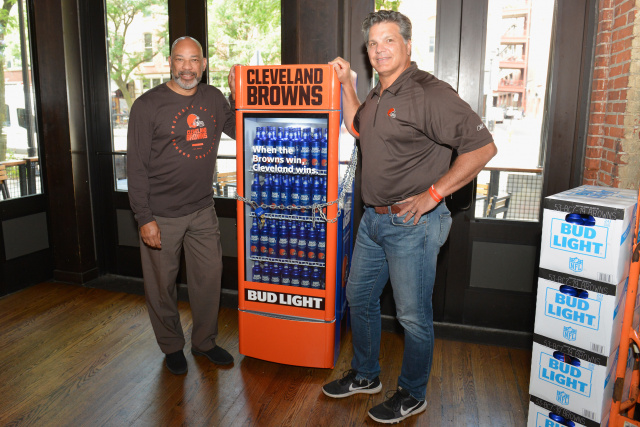 CLEVELAND- Bud Light and the Cleveland Browns announced on August 14, the creation of the Bud Light Cleveland Browns "Victory Fridge," a smart-technology refrigerator that will automatically unlock after the Browns capture their first regular-season victory of the 2018 NFL season.
Beginning then, Bud Light and Ohio-based wholesaler House of LaRose will install the Bud Light Cleveland Browns "Victory Fridges" at bars that have purchased the fridges in Cleveland, inviting fans to gather at their favorite watering holes for a chance to be a part of the well-deserved victory celebration. At the very moment the Browns achieve that long-awaited victory, the Bud Light Browns Victory Fridges will simultaneously unlock, giving fans 21 and over the chance to enjoy the sweet taste of victory together. Victory fridges will also be placed at Cleveland's FirstEnergy Stadium and Bud Light will be there to help fans celebrate when the Browns bring home that first win.
On September 19 after almost 2 years the browns won 21-17 over the New York Jets.  Bud light announced beer was on them and unlocked the fridges all over the Cleveland area.
"The Bud Light Browns 'Victory Fridge' is a fun way to celebrate and reward a fanbase that has never wavered in enthusiasm or dedication for their team no matter what happens," said Andy Goeler, Vice-President of Marketing, Bud Light. "We're proud to show our support for Cleveland, and we're always looking to bring NFL fans and friends together for memorable experiences. It's going to be fun to be part of the celebration when the team earns their first victory of the season."
Powered by Bud-E Fridge smart technology, the Bud Light Browns Victory Fridge is the brand's latest innovative technology to help create unique experiences for NFL fans.
"Our top priorities are to build a consistently winning team and to create unique experiences for Browns fans, and the Bud Light Cleveland Browns Victory Fridges will give our fans a special opportunity to celebrate our first win of the 2018 season," said Executive Vice President/Chief Operating Officer Dave Jenkins. "We have the most passionate, loyal fans in sports, and we are excited to partner with Bud Light on this promotion that they created specifically for Northeast Ohio due to Browns fans' unmatched support of our team."
To get all the latest information on the Bud Light Cleveland Browns "Victory Fridge" and other exciting programs, follow Bud Light on Facebook at Facebook.com/BudLight, on Twitter at @BudLight and on Instagram at @BudLight.